Mrs Wilcox is the class teacher.
Mrs Reid is our fabulous nursery nurse.
You may also meet Mrs Ridgard, Mrs Pearce, Mrs Brooks,Mrs Harrison and Mrs Townsend who pop in for a play from time to time.
Welcome back, we hope you all had a lovely relaxing Easter holiday.
This half term we will be learning about
'Pets'
We will be learning about how to take care of animals as well as how to stay safe around them.
Our role play area is going to turn into a (pretend) pet shop where the children can explore our small friends and learn about their needs.
The children will have lots of opportunities to practice their maths and literacy skills making sure that all of the animals are fed and accounted for each day and none have escaped from their homes!
We will be enjoying lots pet related stories and songs, starting off with 'The Great Pet Sale' book by Mick Inkpen.
On Friday the 5th of May 'The Dogs Trust' are visiting nursery.
Please watch this space to see who else comes to visit nursery over the next five weeks.
It was so lovely to share children's progress with parents during our recent parent consultations. Please look out for the number poems and letter formation sheet that your child will be bringing home this week. The children are all very excited about being able to label their own pictures with their names and the letter formation sheet will help them learn the correct letter formation from the start.
It's wipe clean , so they can have fun practicing. Maybe they can tell you some of the letter sounds we have been learning in phonics too. We will be singing Jolly phonics songs everyday and learning three new letters each week. Look out for the ones we are learning on the Nursery Notice board by the door.
This week we have learnt s,a,t
I promised that I would let everyone know about some useful websites that we use in school that can support children's learning at home. Please see the links below.
Spring 2 Topic
This half term we will be learning about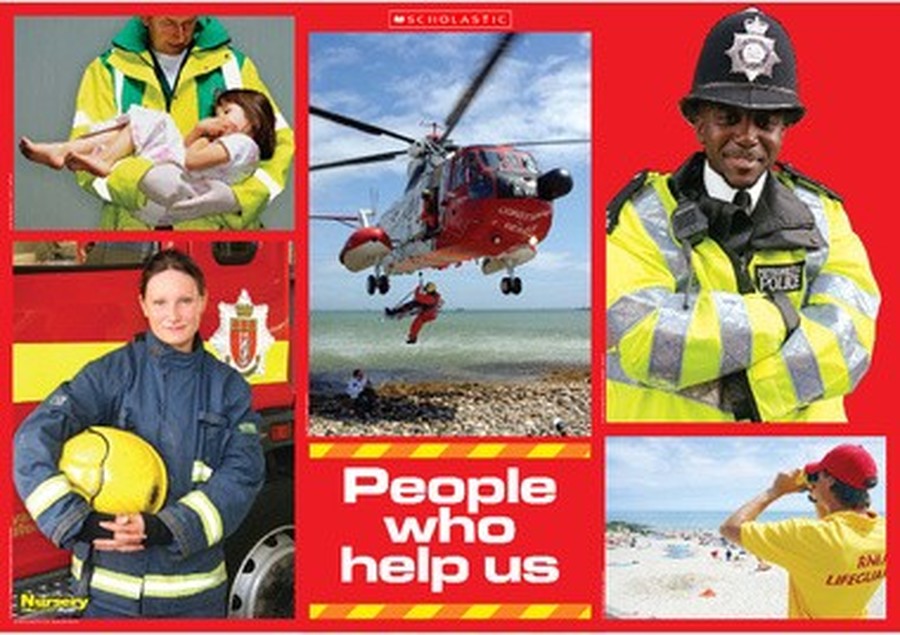 We will begin by learning about doctors and nurses,thinking about what they do to help us to stay fit and well. We will also be learning about what we can do to stay healthy.
Throughout the term we will learn about the Police and Fire Service, Dentists and other people who help us in our community.
We are planning to have some exciting visitors to nursery too.
We have some special days to celebrate this half term.
Pancake Day on the 28th February
World Book Day on the 2nd of March
Mothers Day
and
Easter
This half term we had a fabulous time learning about all the people who help us.
First the fire service came to visit.
They showed us their fire engine, let us climb inside the cab and have a go at squirting water from the hose. Mrs Wilcox and Mr Parrys had a race to see who could get dressed in the Fire Fighter safety uniform the quickest.
The fire service told us what they do to help people and we learnt about how to keep ourselves safe. We learnt the poem,
Matches, matches never touch,
They can hurt you very much.
We know that only grown ups should touch matches.
After their visit we thought about what the fire engine looked like and painted pictures, we pretended to be firefighters acting out scenes with our friends and climbed ladders like fire fighters in PE.
Then PC Jon came and spent the day with us.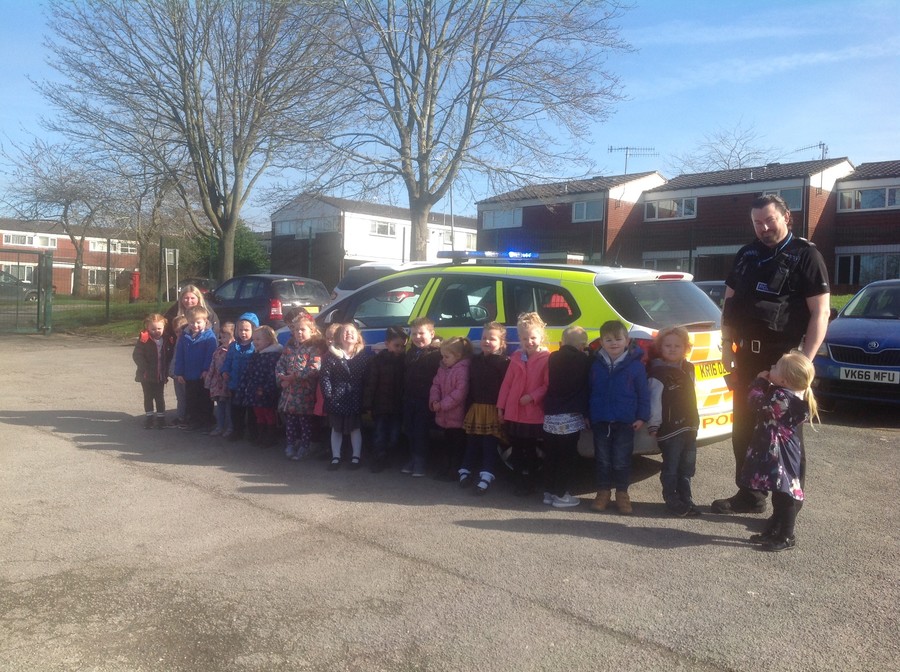 He told us all about his job and taught us about how to stay safe. We had the opportunity to take a closer look at his uniform and he let us try on his jacket and helmet so that we could pretend to be Police Officers.
Afterwards we worked together to create a collage of him, thinking about the important parts of his uniform and the things he needed to help keep people safe. We enjoyed pretending to be Police officers and thought carefully about making the right choices and how we could all help each other at nursery.
The next special visitor was Alison the dentist. She taught us how to look after our teeth. She reminded us to brush them twice a day, to visit the dentist regularly , to avoid sugary food and drinks and to only drink water at bedtime. She brought along some special puppets for us to practice our teeth brushing skills.
We celebrated some special days this half too:
Pancake day
We all made our own pancakes and chose our own toppings- yummy!
World Book Day
We dressed up as our favourite book characters.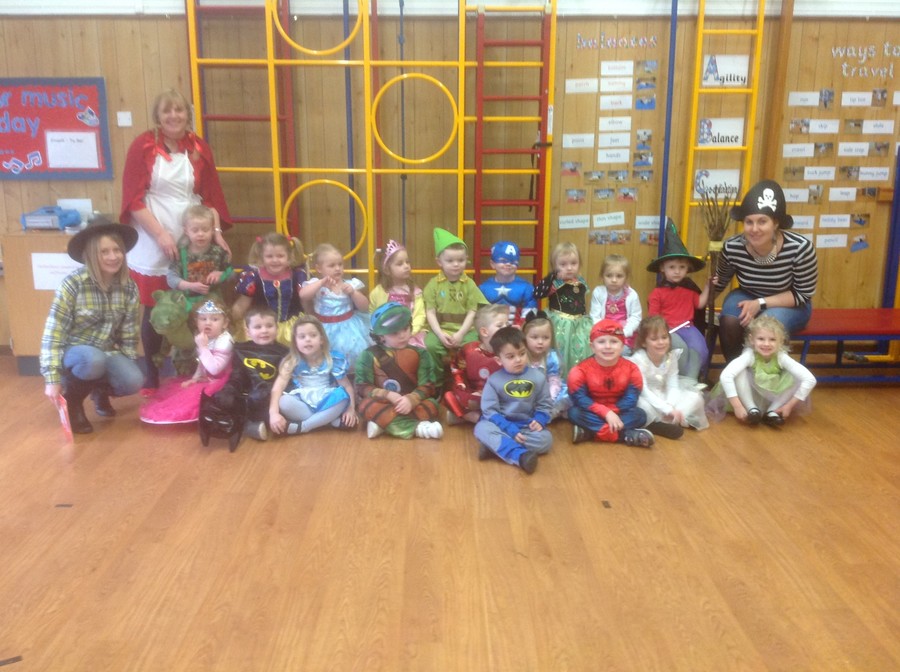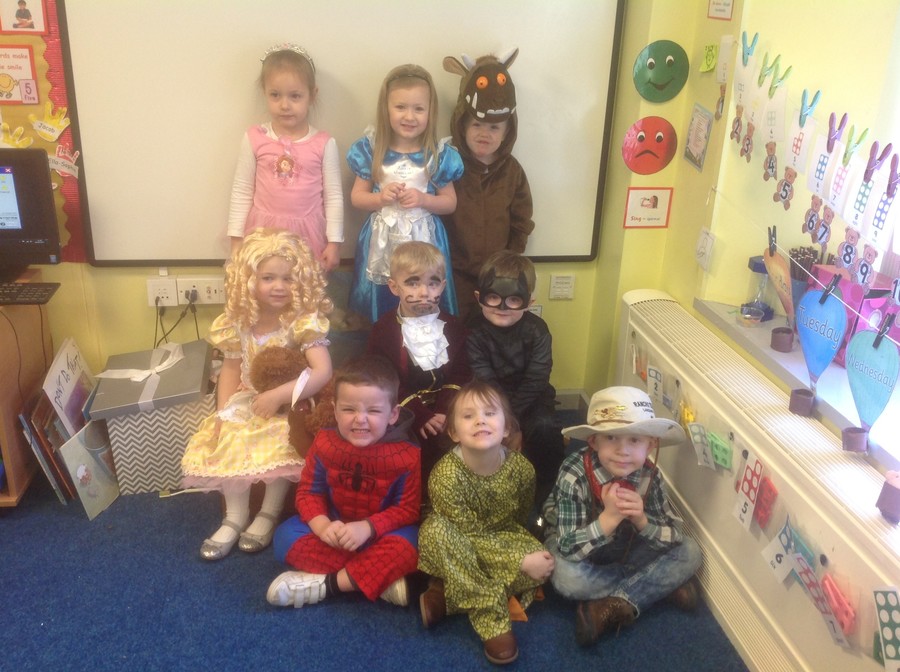 Mothers Day
We made special cards and treats for our mummies.
Easter
We all made our own Easter bonnets and took part in an Easter bonnet parade and an Easter egg hunt.
The Easter Bunny visited Nursery and gave us all an Easter Egg too!
We looked at how the environment was changing in Spring and painted daffodils just like the ones we had seen growing in the play ground.
Red Nose Day 2017
Do something funny for money.
The staff and children dressed up and did something to make everyone laugh.
Happy New Year
Spring Term 1
2017
This half term we will be learning about Winter.
We will be exploring the school grounds to experience the
winter weather during our Muddy Monday sessions.
We will look closely at how our environment changes throughout the season, thinking about the wildlife and how we can help and protect the creatures that we share our world with.
The children enjoyed making snowmen in a variety of ways; on the interactive whiteboard, baking and creating them with craft materials. The explored ice and thought of words to describe it as well as experimenting with freezing and melting.

We looked at animals who live in colder climates and thought about how they moved, where they lived and how we could help them. in our PE lessons we explored how we could move like the animals, sliding along on our tummies, waddling like penguins and pretending to splash into the water.
This term we also celebrated
Chinese New Year
The children created their own Chinese dragon, learnt a Chinese New Year Song and Dance and performed a Dragon dance. They learnt about the Chinese New Year story of how the years got their names.
They also cooked Chinese food and enjoyed playing in the Chinese Restaurant with their friends.
Autumn Term 2 2016
The children have all settled back into Nursery happily after half term. They are trying hard to remember the class rules:
Good Listening
Good Looking
Good Sitting
Kind Hands and
Kind Words that make everyone happy.
Our topic this half term is
Celebrations and Special Days
We have had so many things to celebrate:
Halloween
Diwali- The Hindu Festival of Light
Bonfire Night
Poppy Day
Children in Need
and finally
Christmas
The children enjoyed playing in the spooky spells shop, pretending to be shop assistants and shoppers dressed up in Halloween costumes. The shop provided lots of opportunities for the children to play, interact and share with each other; as well as develop their early mathematical skills of sorting and counting the various items from lizards to wizard's beards.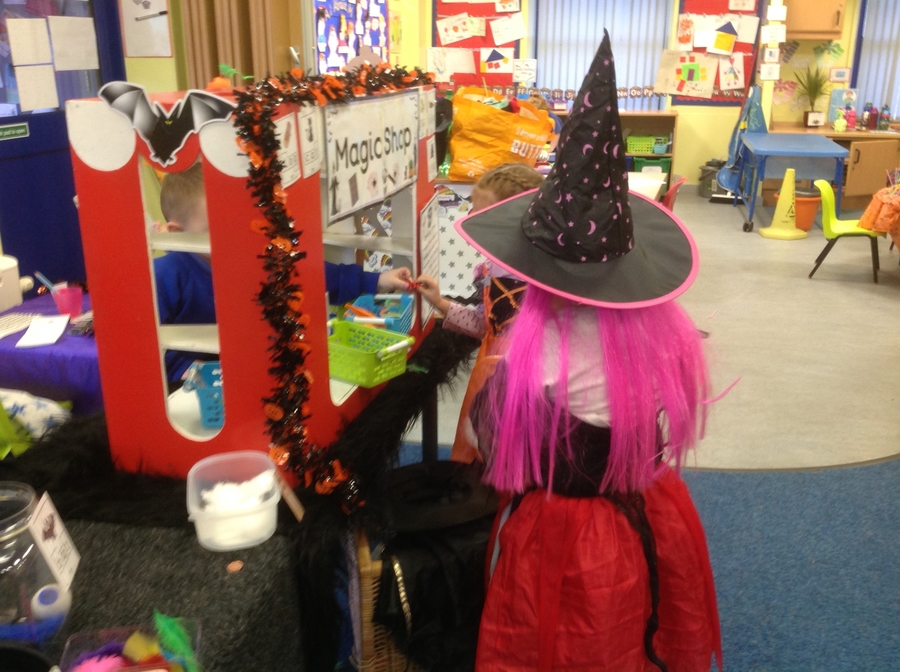 The children explored pumpkins in a variety of ways, real and virtual. They enjoyed creating pumpkin designs on the interactive whiteboard, reinforcing their knowledge of shapes and taking turn with their friends.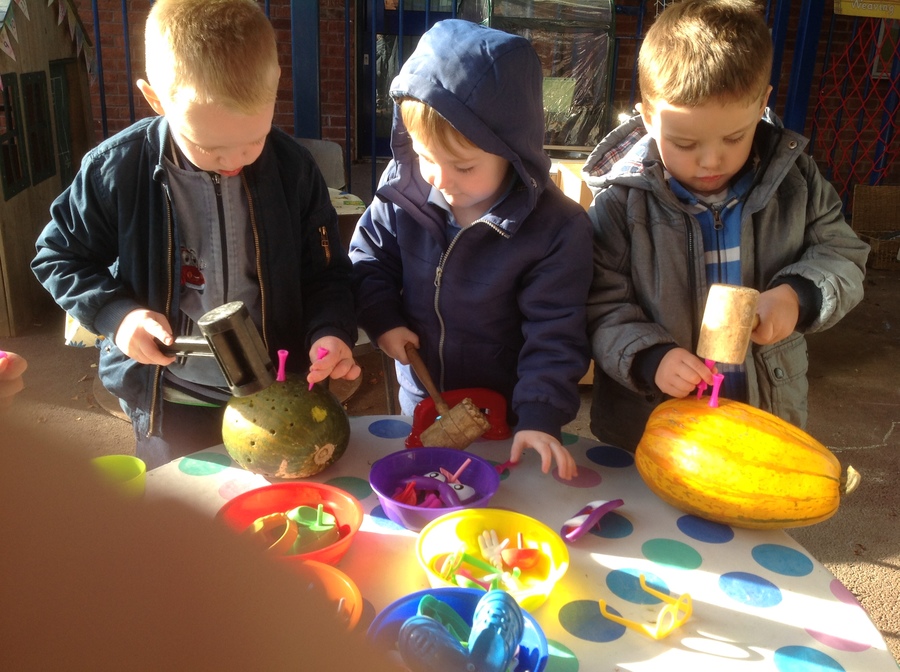 We had great fun acting out the 'Room on the Broom' story. The children acted out the story outdoors during Muddy Monday and throughout the week in the classroom using the props provided. They joined in with the repetition of the text and enjoyed recreating the story in various ways. An animation of the story can be found on You Tube. Please share this with your children and encourage them to join in.
Following this the children learnt about the Hindu Festival of Light- Diwali. They learnt about the story of Rama and Sita. We lit (battery operated) tea light candles and watched the shadow puppet Story of Diwali on CBeebies and acted out the story with our own puppets in the book corner. We made diva lamps and rangoli patterns and danced to traditional Hindu music during PE.
Our next celebration was Bonfire Night.The children talked about their experiences and feelings about fireworks.We also talked about how to stay safe. We learnt a poem about rockets:
Zoom, zoom, zoom we are going to the moon.
Zoom, zoom, zoom we'll be there very soon.
5,4,3,2,1
Blast off.
Wheeeeeeeeeeeeeeeeeeeeeeeee
BANG
This caused great excitement.The children enjoyed creating a giant collage of fireworks together during Muddy Monday and pretended to be rockets launching off the tyre park, remembering how to land safely. We then made rockets using the numbers 1-5 and decorated them with stars and lots of sparkly glitter.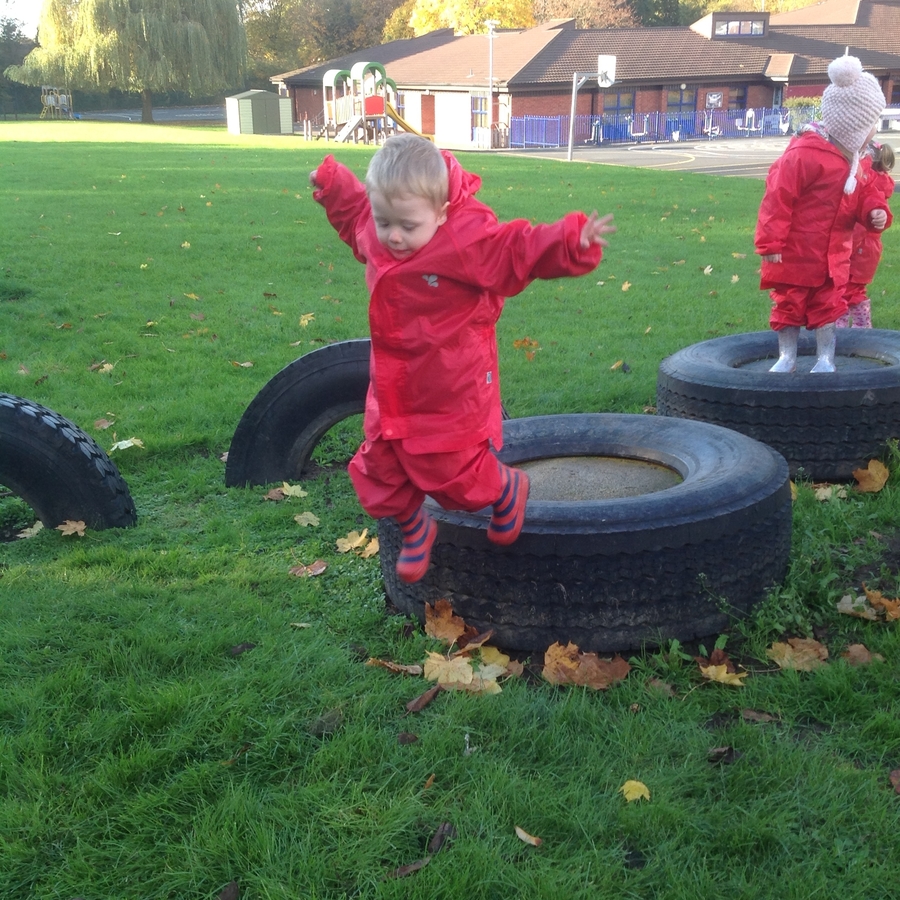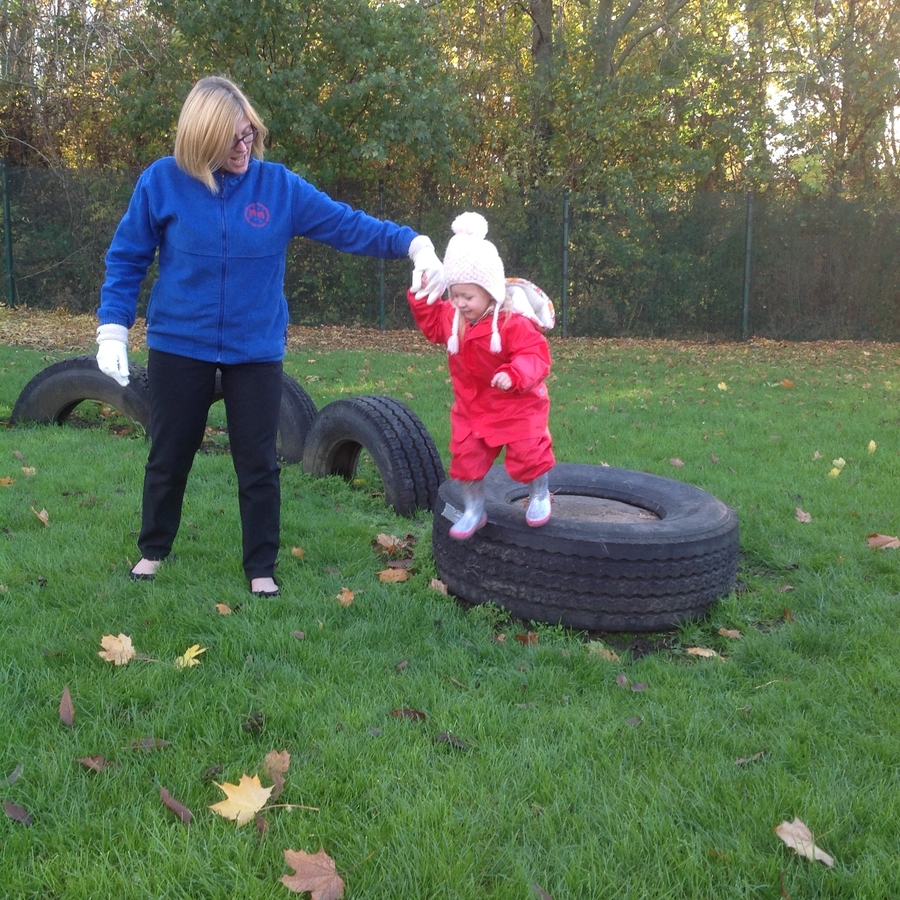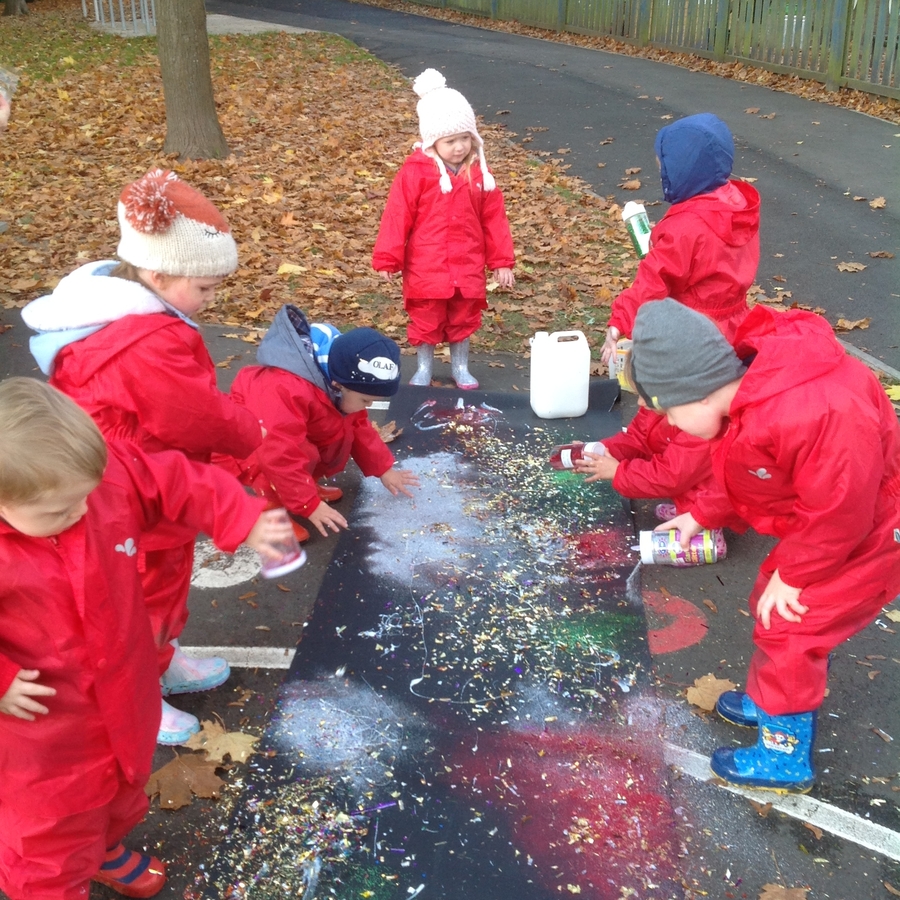 Remembrance day came next. The children learnt that we wear poppies to remember the soldiers and that the money raised goes to the poorly soldiers and their families. The children created some poppies of their own too, this made a beautiful display in the nursery.
Pudsey Bear came to visit on Children in Need Day. Throughout the week the children learnt about where the money goes that is raised on the day. We talked about the children and their families and thought about how it would feel to be like them. The children made Pudsey Bear biscuits and hats and brought in coins to cover our own Pudsey Bear in the Nursery.
The School raised £190 on the day. Thank you to everyone for your donations.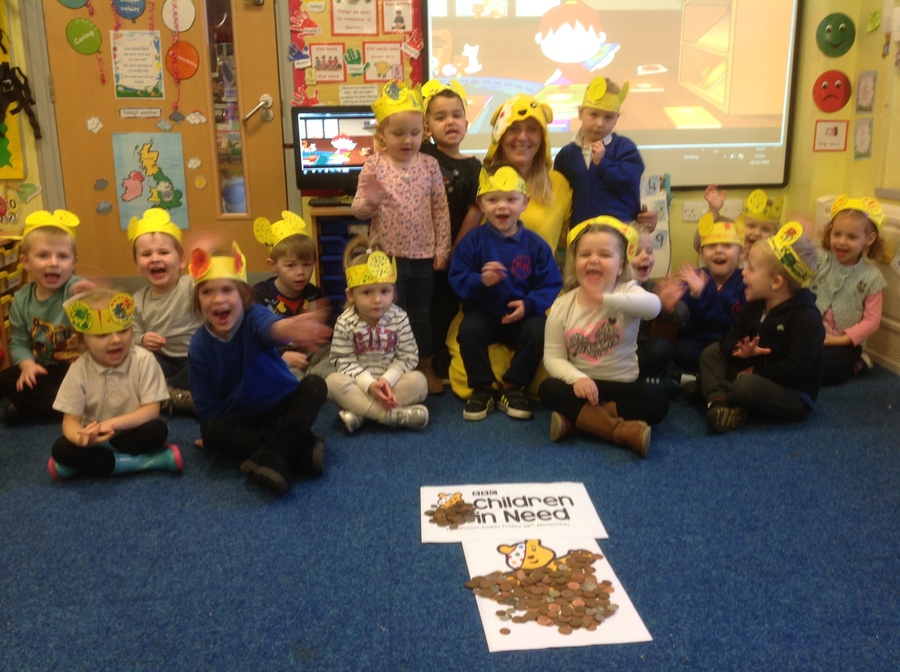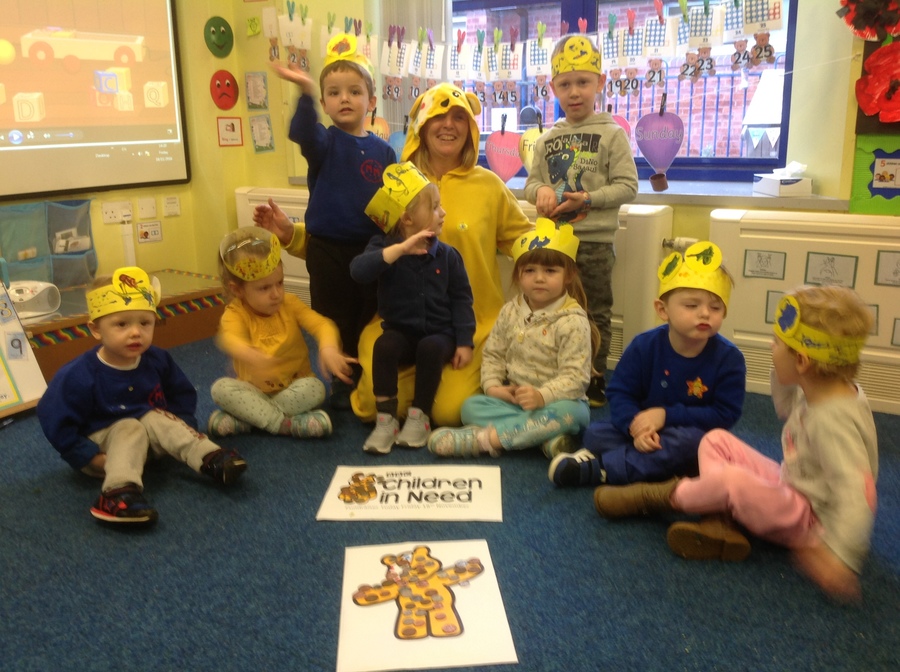 This week we also looked at the story 'The Bear Hunt'
This was used to develop the children's knowledge of positional language (on, in, under, behind etc). They had great fun acting out the 'Bear Hunt' story outside during Muddy Monday:
Squelching through the mud
Splashing through the river
Stumbling through the forest
Swishing through the long grass and
Running through the snow storm ( whilst having a snowball fight with socks!)
The squeals of delight when we found the bear were wonderful.
The engagement with the story continued back in the classroom where the children used the props in the book corner to recreate the story over and over again.
An animation of this story can be found on You Tube, please share it with your child and join together to enjoy the story.
Another great educational website that we have been using in Nursery this half term is 'Top Marks' http://www.topmarks.co.uk/. The children have been practising their counting skills on the Gingerbread man and Teddy Bear programs. We have been encouraging the children to point to each button/present individually to ensure accuracy. They then have to match the quantity to the number.
Over the next three weeks we will be learning about Christmas, starting with our Nativity performance of the 'First Nativity'.
Autumn Term 1 2016
This week we have been welcoming children into Nursery. They have been exploring the nursery environment and making new friends.
Our topic this half term is 'All about me'. Children have already made a start on some wonderful art work, creating pictures of themselves and letting us know all about their likes and dislikes.
See a copy of our latest Nursery Newsletter below with details of what we are doing each day at Nursery.
'Muddy Mondays' start on Monday the 19th of September. Please remember wellies. Thank you.
Here are some photos from our first 'Muddy Monday' of this term. The children had a great time exploring the school grounds, splashing in puddles and listening to the sounds they could hear.
Summer Term
We have been learning all about 'On the Farm'
We have read 'Farmyard Hulabaloo', 'Farmer Duck', 'The Three Little Pigs' and 'The cow that laid an egg'.
Our role-play area has been Farm Shop. The children enjoyed making some of the props to use.
We visited Umberslade Farm. We fed the ducks and chickens, stroked the lambs and goats, bottled fed a lamb and held some small animals. We also saw the pigs- they were very smelly!
In Nursery, we love playing outside!
We have been exploring different ways of travelling, balancing and tall and wide shapes in PE.
Our Weekly Activities
Monday- 'Muddy Monday'- Outdoor play in the Reception Area. Wellies are always useful.
Tuesday- Morning Music Session with Mrs White.
Wednesday- Cooking/baking/food tasting - £1 donations per half term towards ingredients are appreciated.
Thursday- Afternoon Music Session with Mrs White.
Story Time- please join us to share a story with your child.
Morning session- 11:30am, Afternoon session- 2:40pm.
Friday - P.E. - please dress children in practical clothes and shoes that are easy to take off and put on again. No dresses, skirts or tights please!
We also change our reading books today. Please bring your reading books to Nursery in your book bag every Friday.
Spring Term
We had a great time learning all about 'Bears and Teddies'.
Children enjoyed the stories 'We're going on a bear hunt', 'Goldilocks and the three bears' and 'Peace at Last'.
We also celebrated Shrove Tuesday, Chinese New Year, Mothering Sunday, World Book Day and Easter.
We held a Fine Motor Stay and Play. There was lots of activities, including duck races, finger painting, weaving and threading.